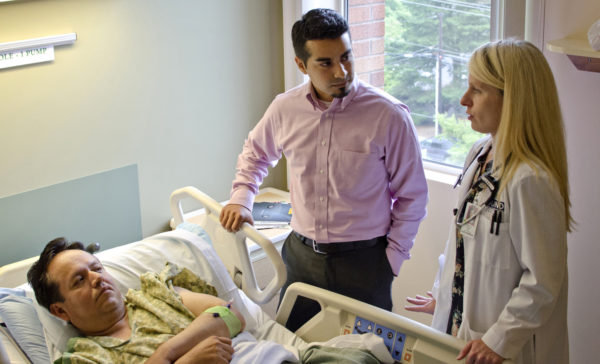 With approximately 67.3 million people in the United States (equal to the entire population of France) speaking a language other than English at home, overcoming language barriers for LEP (limited English proficient) patients is becoming an increasingly significant factor in the delivery of safe and effective healthcare.5 As this percentage increases decade-over-decade2, the need for professionally trained medical interpreters also continues to grow.
A major problem that hospitals and healthcare organizations face is the continued use of untrained medical interpreters for patients who do not speak English.1 Under Title VI of the Civil Rights Act of 1964, hospitals and institutions that receive federal funds cannot deny service to, or discriminate against, any person(s) on the basis of race, color, or national origin.3 One component of complying with Title VI's regulations requires hospitals and healthcare institutions to provide free language services to LEP patients4. In an effort to decrease costs associated with providing these language services, many hospitals and healthcare organizations utilize ad hoc—or "as necessary"—interpreters or bilingual employees to provide the required language services. Unfortunately, ad hoc interpreters and bilingual employees are not professionally-trained medical interpreters. While they may be perfectly fluent in both languages, they are not trained in the appropriate medical terminology to accurately interpret the dialogue between provider and patient6 . In fact, untrained medical interpreters often misinterpret or omit up to half of the physician's questions and are more likely to commit errors with clinical significance1.
Unfortunately, inadequate communication and misinterpretation by an untrained interpreter can have tragic consequences. In one instance, a Spanish-speaking patient relayed that he was "intoxicado," meaning he was nauseated, which was misunderstood to mean intoxicated and he was therefore treated for a drug overdose. After 36 hours, the patient's condition was reevaluated and given the proper diagnosis of intracerebellar hematoma with brain-stem compression and a ruptured artery. As a result of the delayed care, the patient became quadriplegic due to the misinterpretation of one word1. It is imperative that medical interpreters receive proper training to avoid situations like this.
Conversely, professionally-trained medical interpreters "decrease communication errors, increase patient comprehension, equalize healthcare utilization, improve clinical outcomes, and increase satisfaction with communication and clinical services for limited English proficient patients"1. In short, patients that receive interpreting services from professionally-trained medical interpreters receive optimal communication and experience fewer communication errors than from language services provided by unqualified interpreters.1
An interpreter is qualified and trained after attending a medical interpreting training that is in accordance with the National Council of Healthcare Interpreters' Standards of Practice. Qualified interpreters are trained to enhance the provider-patient relationship and are familiar with medical terminology and the healthcare system, have a clear cultural awareness and sensitivity, and have the experience necessary to render true and accurate interpretations between the patient and provider1.
Gulfcoast South Area Health Education Center's 40-hour Medical Interpreting training program does just that. It is a comprehensive, hybrid 40-hour course that meets the training requirement to apply for National Certification and covers several topics, including ethics and conduct, basic skills (from pre-session to post-session), positioning, medical terminology, modes of interpreting, and strategies for intervention and cultural mediation. The virtual component of the course utilizes Zoom® and Google Classroom® platforms for weekly access to live instruction and 24/7 online access to course materials, and the complete-at-your-own-pace style of the training allows for flexibility during the work week. Office hours with the instructor are available for individual advice, and training completers receive a "Professionally Trained Medical Interpreter" certificate at the conclusion of the course.
Register for the next 40-hour Medical Interpreting Training by visiting our website or calling us at 941-361-6602. If you would like more information about our program before registering, visit us at https://gsahec.org/access-program/medical-interpreting-training/, email Liliana Irwin (training instructor), or call us to learn more!
References:
1 Healthcare Solutions. The Definitive Guide to Interpreter Services in Healthcare. Interpreters and Translators, Inc. www.ititranslates.com. Pages 8, 9, 10
2 American Academy of Arts & Sciences: Commission on Language Learning. 2016, December. The State of Languages in the U.S.: A Statistical Portrait. https://www.amacad.org/publication/state-languages-us-statistical-portrait. Page 3.
3 U.S. Department of Labor. Title VI, Civil Rights Act of 1964.  https://www.dol.gov/agencies/oasam/regulatory/statutes/title-vi-civil-rights-act-of-1964
4 The Joint Commission. 2008, January. Language Access and the Law: Title VI of the U.S. Civil Rights Act (1964).
5 The Joint Commission.  2015, May (initial publication). 2021, October (updated). Quick Safety: Overcoming the Challenges of Providing Care to LEP Patients. Issue 13, page 1.
6Common Misconceptions about Interpreters and Translators You Need to Ignore: https://dayinterpreting.com/blog/common-misconceptions-about-interpreters-and-translators-you-need-to-ig. August 23, 2021.