GSAHEC's Career Chats are designed to provide middle and high school students with an exciting opportunity to learn more about a variety of healthcare occupations.
REACH
Health Careers Camps
GSAHEC coordinates Health Careers Camps in partnership with local healthcare systems. Camps provide high school students interested in health careers a rare and unique opportunity to explore a variety of health occupations through visits with healthcare professionals, hands-on activities, and tours of healthcare facilities. These experiences help students learn from health professionals, increases their knowledge about healthcare, and motivates the students to develop effective short and long term educational and career plans.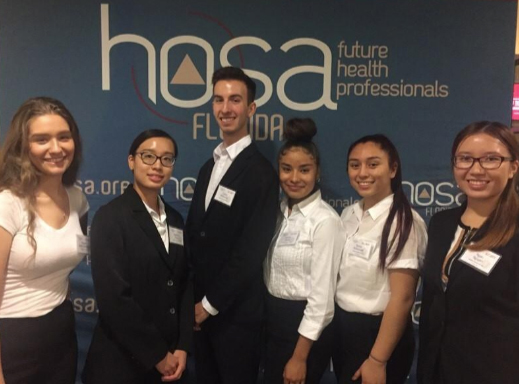 REACH/HOSA Future Health Professionals
Partnerships
GSAHEC partners with area high schools, assisting the HOSA Future Health Professionals chapters as technical advisors. Students benefit from GSAHEC's monthly visits introducing the possibilities available in the healthcare professions, providing information on college admissions and financial aid requirements, and sharing information and resources needed to pursue a career in health.
For more information on Florida HOSA visit http://www.flhosa.org
GSAHEC available to provide technical and advisory services to HOSA Advisors in Charlotte, DeSoto, Manatee and Sarasota Counties.
GSAHEC partners with academic institutions, offering a Public Health Internship which provides health professions students interested in working with rural and medically underserved populations a chance to use their public health knowledge, contribute their ideas and skills, and observe and assist with GSAHEC programming. The public health intern works with health professionals, students, and community and academic partners to ensure successful program experiences.
Florida AHEC
Scholars Program
The Florida AHEC Scholars program is a free and unique interdisciplinary program that is part of a national initiative preparing students to become leaders in primary care and beyond. The Scholars Program provides students with inter-professional learning opportunities focused on building skills and competencies needed to transform patient care. It consists of 80 hours of experiential learning assignments and 80 hours of online modules over the course of two years.
For more information on Florida AHEC Scholars, or to apply for the program, visit https://www.flahecnetwork.org/ahec-scholars