Let our numbers speak for themselves
Gulfcoast South AHEC connects students to careers, professionals to communities and communities to better health. We inspire, train, recruit and retain a diverse and broad range of health professionals to practice in communities where the need is greatest. We are affiliated with the University of South Florida AHEC Program, part of the Florida AHEC network, as well as an active member of the National AHEC Organization.
GSAHEC's mission is to provide health education that improves the well-being of the communities we serve. We are an organization to whom you can turn to provide education, support and inspiration for healthier communities. GSAHEC's tagline, Promoting Community Health through Partnerships & Education, speaks to the importance of partnerships in our work. We look forward to continued work in Charlotte, DeSoto, Manatee and Sarasota counties for many years to come. Thank you for helping us fulfill our mission!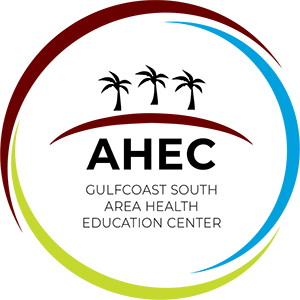 Upcoming Classes
and Trainings
Through our ACCESS Program, we offer medical interpreting training, cultural competency seminars, occupational Spanish classes and more. As part of the Tobacco Free Florida AHEC Cessation Program, we are the group cessation provider in the counties we serve, and provide a variety of trainings to healthcare providers and health professions students to assist them in helping their patients become tobacco-free. Finally, our REACH Student trainings help inspire students to choose a career in the health professions or care for underserved populations.