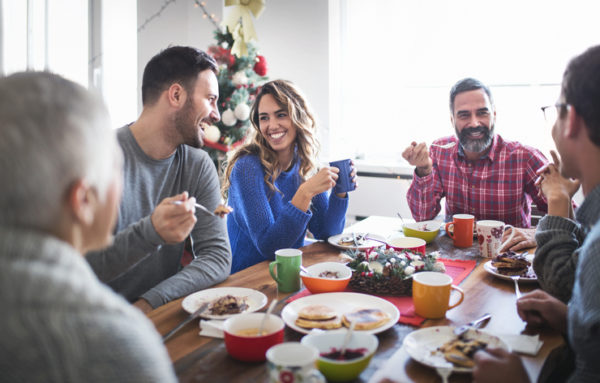 While the holidays are an exciting time of the year, they can also be a stressful time of the year. With get-togethers to attend, food items to bake, gifts to shop for, and parties to host, the holidays can be quite overwhelming, especially for someone who has recently quit or is working to quit smoking.
If you have committed to smokefree living, managing that extra holiday stress can be a challenge; however, these helpful tips will help you manage the stress and remain smokefree:
Get enough sleep. When we are tired or run-down, cravings feel stronger while we feel less able to manage them. Be sure to get plenty of sleep at night or, if possible, carve out some time during the day for power nap.1
Replace caffeine with more water. Many times, when we are feeling tired, we run to another cup of coffee for a quick energy boost. While this may help you to stay awake, too much caffeine can make you feel jittery and more stressed. Instead of reaching for another cup of coffee, grab a glass of water! Drinking water is great for lessening cravings and staying well-hydrated will make you feel better in general which will, in turn, help you manage the holiday stress more easily.1
Go for a walk. Walking not only reduces stress, but it also improves circulation and releases endorphins, the "feel good" hormones. Take a quick walk whenever you feel stressed; instead of caving in to the urge to smoke, you'll come back feeling energized, refreshed, and relaxed.1
Breathe deeply. Deep breathing is a quick way to reduce stress and release tension in your body.1 Take a few moments to slowly inhale through your nose, then exhale through your mouth. You will start to feel the stress melt away after repeating this process just a few times.
If you or someone you know needs extra support to quit smoking for good, help is free! Gulfcoast South Area Health Education Center (GSAHEC), as part of the Group Quit option of Tobacco Free Florida's Quit Your Way program—offers free group quit sessions to help someone quit all forms of tobacco. These group sessions, held virtually and in-person, provide information about the benefits of quitting, managing stress and triggers, and will assist you with developing your own customized quit plan. Free nicotine replacement therapy in the form of patches, gum or lozenges (if medically appropriate and while supplies last) are provided with the session. Attendees will also receive a participant workbook, quit kit materials, and follow up support from a trained tobacco treatment specialist. Contact us today at 866-534-7909 or visit our page to schedule a class or learn more about the program!
References:
1 https://www.verywellmind.com/smoke-free-holiday-tips-2824909